Social Media Network
We are branchin' out into the mighty World of the Web!
If you want to stay connected with the Fringe, here's some great ways to do that...
FACEBOOK
This is probably one of THE best ways to stay connected to family and friends. When you sign up, you realize just how small a world it actually is!

http://www.facebook.com/calgaryfringefestival
If you're already on Facebook, our call sign is Calgary Fringe. Send us a friend invite..the more, the merrier!
TWITTER
Wanna keep your fingers on the pulse of what's goin' on, quickly and efficiently? Twitter is a great way to do that!

http://twitter.com/calgaryfringe
FLICKR

http://www.flickr.com/photos/calgaryfringe
Directions for sending pics: send to photos@calgaryfringe.ca.
YOUTUBE

Yup, we're here too! Some of our past e-mail viral campaigns and other video type images get stored here. So if you have any pics or video you wish to share, please send 'em along! We'd love to post it! (instructions below...)
http://www.youtube.com/calgaryfringe
Directions for sending pictures: please e-mail to michele@calgaryfringe.ca for posting on our website and blog.
Directions for sending videos: upload your videos on YouTube and forward the URL link of the video to michele@calgaryfringe.ca. For mobile phone pics: send to videos@calgaryfringe.ca.
Show your love for the Calgary Fringe!
It's all about the spreading the love! We're creating some very special Calgary Fringe icons for you to use and post on our own blogs, websites...whatever! When you post one of these dandy images online, web surfers will have immediate access to our website...how cool is that? So show your love and spread the word!
Here and also on the Calgary Fringe Festival website you can get some HTML code to put in your blog or website to display a small icon to show your support for the Calgary Fringe Festival.
There are a couple different sizes and formats for the icons so that you can pick one that works best with your site. The HTML you would need to insert into your site or blog is just below each image. If you would like a different size or shape of icon, please let us know and we will see what we can do for ya.
––––––––––––––––––––––––––––––––––––––––––––––––––––––––––
Option 1 is a 100 pixels by 100 pixels image in PNG format:

<a href="http://www.calgaryfringe.ca" target="_blank"><img src="http://www.calgaryfringe.ca/images/badges/friendofthefringe_100.png" border="0" alt="I'm a Friend of the Fringe" width="100" height="100" /></a>
––––––––––––––––––––––––––––––––––––––––––––––––––––––––––
Option 2 is a 200 pixels by 200 pixels image in PNG format: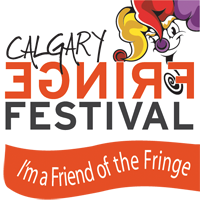 <a href="http://www.calgaryfringe.ca" target="_blank"><img src="http://www.calgaryfringe.ca/images/badges/friendofthefringe_200.png" border="0" alt="I'm a Friend of the Fringe" width="200" height="200" /></a>
––––––––––––––––––––––––––––––––––––––––––––––––––––––––––
Option 3 is a 100 pixels by 100 pixels image in GIF format:


<a href="http://www.calgaryfringe.ca" target="_blank"><img src="http://www.calgaryfringe.ca/images/badges/friendofthefringe_100.gif" border="0" alt="I'm a Friend of the Fringe" width="100" height="100" /></a>
––––––––––––––––––––––––––––––––––––––––––––––––––––––––––
Option 4 is a 200 pixels by 200 pixels image in GIF format:

<a href="http://www.calgaryfringe.ca" target="_blank"><img src="http://www.calgaryfringe.ca/images/badges/friendofthefringe_200.gif" border="0" alt="I'm a Friend of the Fringe" width="200" height="200" /></a>
––––––––––––––––––––––––––––––––––––––––––––––––––––––––––